Choosing The Perfect Carpet Color For Your Home
Buying new carpet involves a lot of decisions — the style of carpet, natural or synthetic fibers, the choice of material, the texture, the patterns, the price point, and finally, the color.
The color of your carpet is a difficult decision — it's hard to visualize how a certain color will fill a whole room when all you have to go by is a tiny swatch. And you certainly don't want to get it wrong — replacing a carpet is a lot more work than just a new coat of paint.
Lucky for you, we've got some tips to help you pick a color that you'll be happy with for the lifetime of your carpet.
Which Colors Should You Choose First?
If you're decorating and furnishing a brand new home, there are three main components of any room for which you'll need to choose colors: the carpet, the paint on the walls, and the furniture — bedding, couches, curtains, etc.
In the main living areas of the house, pick your sofa first. Sofa color options are usually much more limited — each style may only come in one or two colors — and you don't want to plan for a navy blue sofa just to find out that you can't find a navy blue sofa in a style or size you like.
In the bedroom, on the other hand, choose the carpet first. Color options for bedding are pretty much unlimited, so you'll almost certainly be able to find something that fits the color scheme you picked out. If you're worried, browse online or take a spin through your local department store just to be sure.
When In Doubt, Go For Neutral Colors
If you're worried about buying carpet in a bold color, only to decide you don't like the way it looks, stick to a more neutral tone. Use colors elsewhere in the room — paint, furniture, bedding, throw pillows, decor, throw rugs, lamps, and so on are all ways to bring splashes of color to a room without the investment of brightly colored carpet.
Current trends for carpet colors include earthy tones, including shades of tan, gray, and beige. Neutral colors will go with everything, so if you change up the look of your living space, the carpet will still look great. And neutral colors don't have to be boring! Go for a frieze or cut-and-loop style to add depth and texture to your flooring.
Get Flecked Carpet For A Little More Personality
Another great way to spice up a neutral-toned carpet is to buy carpet with what are called "berber flecks" in it. Berber also refers to a looped style of carpet, so we know the term can be confusing, but what we're referring to is the little speckles of darker color in a light-toned carpet.
In addition to being attractive and adding a little more variety to your floors, Berber flecks will help mask dirt and small debris between vacuuming, so your carpets will look nice and clean even when they aren't.
Keep Your Lifestyle In Mind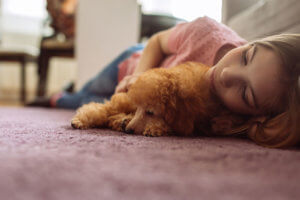 Very light and very dark colors of carpet tend to show off lint, dirt, and spills more than neutral-toned carpet colors, so keep that in mind when you're choosing and placing carpet. Pure white carpet might look elegant and sophisticated, for example, but if you have kids or pets, you're almost certainly going to start seeing stains.
The same goes for choosing different carpet colors for different rooms. A dark color might look great in your master bedroom, where your kids don't usually spend time and foot traffic is low, but it's probably not a good idea for high-use areas like hallways, playrooms, and kids' bedrooms.