Hygge and Carpets: The Perfect Match
Winter may not start until December 21, but it feels like it's officially here in Colorado. Snow is falling, dogs are wearing sweaters, and you can see your breath in the morning when you step outside! For some people, the lower light and shorter days — not to mention being cooped up inside — make them glum and lethargic.
That's where hygge comes in. Hygge is a Danish word — pronounced "hyoo-guh," or something close to it — and it refers to a sort of broad sense of comfort, coziness, and contentment with the simple things in life.
How Did Hygge Get Started?
The word dates back to the 1800s and bears a similarity to a lot of words in several Norse languages including Danish, Norwegian, and Icelandic. It can be defined as "comfort," "joy," "soul," or even just "hug." It's hard to define, but you'll know it when you see it.
The attitude is common to all the Scandinavian countries, and it's a lesson we could all take to heart. On the 2019 World Happiness Report, the five Nordic countries — Finland, Denmark, Norway, Iceland, and Sweden — are all ranked in the top seven of over 150 independent nations.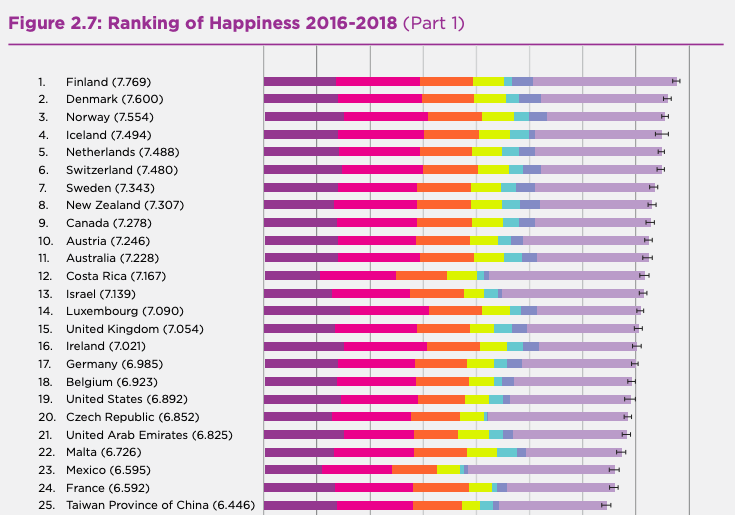 For perspective, the United States ranks 19th. Whatever they're doing in Northern Europe to deal with the long, harsh winters, it's working!
What's Hygge?
Really, hygge is a state of mind, but whatever helps you get into that state of mind can help. Here are a few ways to infuse hygge into your everyday:
Hot cocoa — worrying about the calories in whole milk cocoa isn't hygge, and neither is ordering an extra shot of espresso in your latte to get you through your expense reports. Hygge is about calming down and taking a moment to breathe … with extra marshmallows.
Fuzzy sweatpants — the Danish actually have another word for these: hyggebukser. You wouldn't wear your hyggebukser out on the town, and you don't really care how you look in them, but you can't wait to get into them and curl up on the couch when you get home.
Candles — Danish people burn more candles than anyone in the world, so turn off the harsh fluorescents and light a few candles to set the mood. It doesn't even have to be candles! Just dim the lights a little and turn off that screen in front of you to let your mind calm down a little.
Books — reading a good book is a great way to calm yourself, since it makes you focus on one thing at a time. We tend to watch TV while listening to music and scrolling through Instagram, and the constant array of stimuli isn't good for us.
A spot to sit — Danes add the word hygge to other words to signify that they're hygge-like. For example, a hyggekrog is a cozy corner, like a window nook or squishy armchair where you like to hunker down and watch the snow fall outside.
The Comfort Principle
There's a principle that some people apply when deciding where to spend their money: the comfort principle. Essentially, it means spending your money where you spend your time, since that's where you'll appreciate the expenditure the most.
You spend eight hours a day in bed (hopefully), so splurging on a comfortable mattress is a good idea. The same goes for the shoes you wear every day, or the office chair you sit in. If you cook a lot, then a fancy kitchen knife is a worthwhile investment.
Of course, the place you spend the biggest chunk of your time is your very own home. Combining the principles of hygge and the comfort principle, you'll start to see the importance of making sure that your home is a warm, comfortable, relaxing place to spend your time.
In our humble opinions, carpet is one of the best ways to turn a house into a home. Carpet is soft and warm on your bare feet, making you feel peaceful and at home. Carpet muffles harsh echoes, creating a restful and serene environment. Finally, carpet is inviting. When's the last time the whole family sat in a circle on a tile floor to play a board game? That kind of togetherness only comes from comfort.
Make Your Home Hygge With Sloane's
Of course, we're not suggesting that you need to spend money to get the sense of coziness and satisfaction that defines hygge — in fact, materialism is exactly the opposite of what hygge is all about. But the fact remains that you spend an awful lot of time in your home, especially in the colder winter months. Make that time as enjoyable as possible!
At Sloane's, we carry a wide array of carpet in every material, color, and style you might want, so you can turn your home into the place you want to spend all your time. And with discounts of up to 70 percent off retail, we can accommodate any budget.
So make an appointment, or stop on by! We'll get you fixed up with a cozy new floor in no time.