Fall Home Projects To Tackle Before it Snows
Fall is coming around the corner, and with it, the final days of warmth and the desire to really get cozy. Before the leaves start changing and the temperatures start chilling, there are some things you should tackle around the house first. That way, when brisk fall days turn into blustery winter snows, you're fully prepared to get your cozy on however you please.
Get Your Furnace Checked
Seasonal HVAC checks are always a good thing. As we head into cooler weather, and the AC gets a break from regulating your home's temperature in the summer heat, now's a good time to get your furnace checked – making sure it's in proper working order and everything seems to be in tip-top shape BEFORE it gets cold will save you a lot of shivery nights while you wait for repairs.
Add Some Warmth
Whether this is an outdoor fire pit to extend the amount of time you can spend outside this year and for years to come, or grabbing a few chic throw blankets to add touches of warmth and coziness to your home, making it easier to get and stay warm is a great idea as we brace for cooler temps and cuddling up with a warm bowl of soup seems like a great way to spend an evening.
Replace Windows
If your windows are a little leaky, and letting that drafty, cool air in, it might be time to get them replaced. This is a great fall project to tackle thanks to Colorado's mild weather. You can get them replaced and spend some time outside in the crisp air with the warm sunshine on your skin, making the little upgrade an enjoyable experience all around. Plus, your future selves will thank you when your home is draft-free when the snow starts to fall.
Re-imagine Your Entryway
Foyers and entryways often get the least amount of love in your home, even though they are one of the most highly-trafficked areas in most houses. If it's been a while since you spruced up this part of your home, consider doing so now, before leaves, mud, and eventually, snow gets tracked in. Maybe it's a good time to add a hutch where boots and shoes can be placed or upcycle an old wooden bench paired with coat hooks hanging above. Add a new rug with a fall theme, or something a little more timeless. Really, your imagination is the limit here, and you may find that quick facelift in your home's entry makes coming home at the end of the day just a little more exciting and relaxing.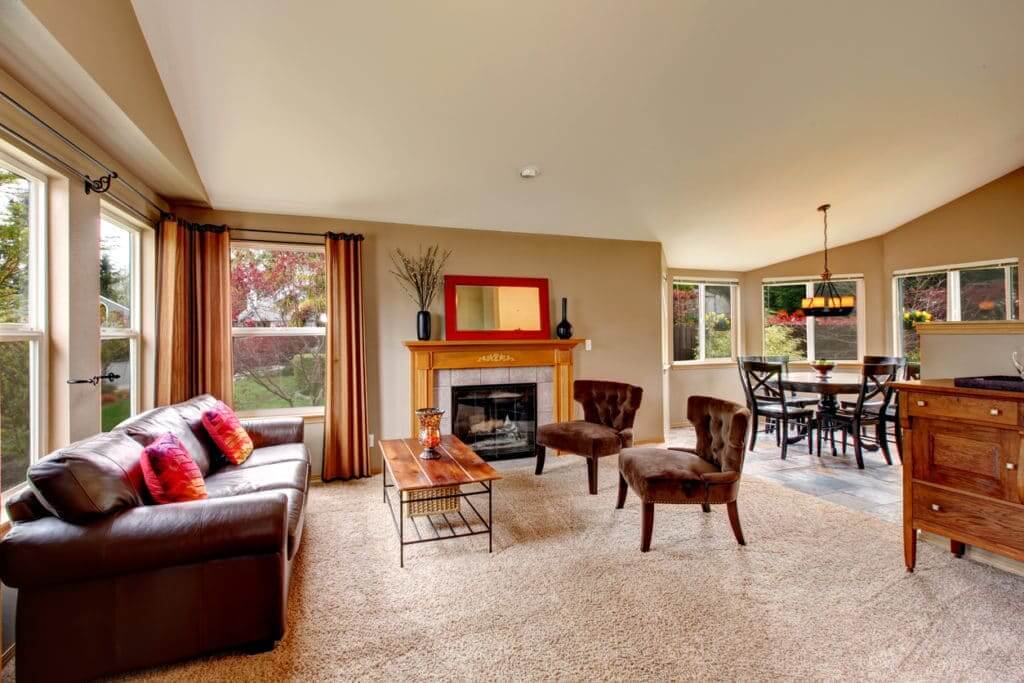 Deep Clean
Now's the time! While you can still open the windows to air out the scent of cleaner, and let your carpets dry with better airflow after a good deep clean. Especially when it comes to your carpets, you should deep clean at least twice a year, and we always recommend an early Fall deep clean to prep your home for the upcoming holiday season and all the family get-togethers that go along with that.
Get Cozy
Adding carpet to a room that needs a little extra coziness, or replacing carpet that's worn down and ready for a refresh is another great upgrade to make this time of year. Even better, with our sales up to 60% off, you can achieve the luxe, comfortable look you've been dreaming of on an even dreamier budget.
There's plenty you can do around the house to make fall a refreshing season all its own, and set yourself up to truly enjoy the cooler weather, changing leaves, and, yes, even eventually that soft, white, cold snowfall. It's much prettier when you're warm and snuggled up in your cozy home, anyway.